​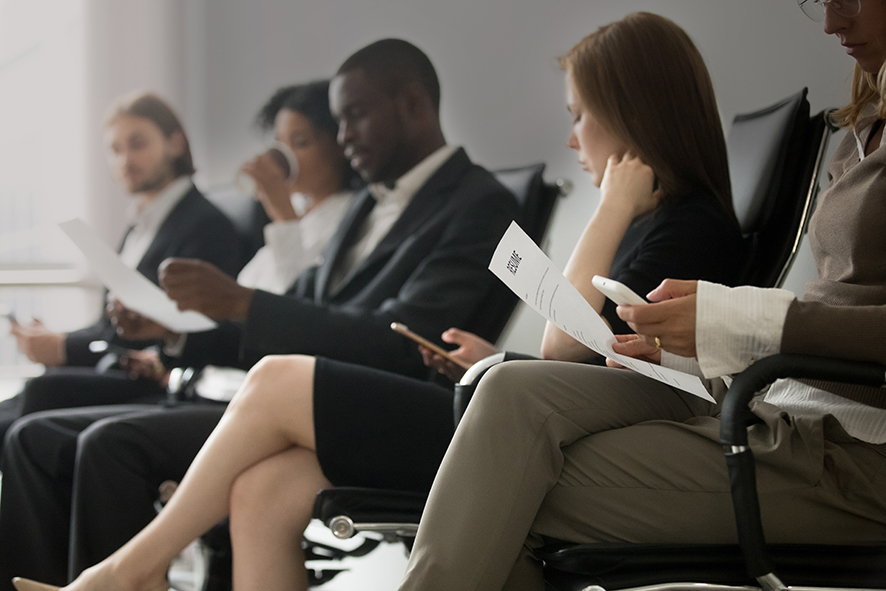 ​How to uphold diversity and inclusion in your recruitment process
If championing diversity and inclusion in the workplace has become a top priority for your organisation in recent years, then you're not alone. Over the past decade, business leaders around the world have become increasingly aware of the benefits of a diverse workforce, including within the procurement and supply chain sectors.

Companies who encourage diversity of gender, race, age, disability, sexuality and education, amongst others, have frequently been found to have a competitive edge.

Academic studies have shown that organisations with staff from a wide range of backgrounds perform better financially and are more productive than those with a less diverse workforce.

For example, one McKinsey study found that companies in the top quartile for racial and ethnic diversity are 35% more likely to have financial returns above their respective national industry medians. The same study found that companies in the top quartile for gender diversity are 15% more likely to have financial returns above their national industry median.
Why diversity gives you the edge
Having a diverse workforce with differing perspectives generates a broader range of ideas, which drives greater creativity and innovation.

When diverse employees feel included and valued, staff wellbeing is also reported to be higher, which leads to better staff engagement and retention.

So, encouraging workplace diversity makes absolute sense, both from a business and employee satisfaction perspective. But as you may have found, putting this into practice isn't always straight forward.
The diversity challenge
Despite recognising the benefits of diversity in the workplace, many businesses are still struggling to attract and retain a diverse workforce. You may have found that your business is not appealing to a wide pool of talent, for example, and instead you're only connecting with people with similar backgrounds and experiences.

It may be that you've done a lot internally to promote diversity and inclusion, and your staff are fully on board, but this still isn't coming across externally.

So, what can you do? The first step is to review your recruitment process.
Promoting inclusive recruitment
At Langley we believe that the first step to driving and retaining diversity and inclusivity within any organisation is by upholding genuine equality within the recruitment process.

As a diverse-owned business certified by MSD UK, we understand the power of a diverse range of candidates. This is not only integral to our internal practice, but also a pillar of our unique value-added service to our clients.

Inclusive recruitment ensures you're able to attract, interview and recruit candidates equally from a wide range of backgrounds. And it makes sure the entire recruitment process is fair for everyone, regardless of their situation.
Six steps to an inclusive recruitment process
If you're unsure of where to start, we've put together six steps you can take to make sure diversity and inclusion is at the heart of your recruitment strategy:
1. Review your company's reputation
Even before you start the recruitment process, it's important to review how your company could be viewed from an outside perspective. Make sure your commitment to diversity and inclusion is visible on your website. Use examples and case studies to showcase the diversity within your business and highlight how inclusivity is one of the driving forces behind your success.
Make sure spokes people for your organisation reflect your approach to diversity, as these people will be seen as the face of your company. Where you can, choose employees from a wide range of backgrounds to represent you.
2. Write inclusive job specifications
This may be the first time a potential candidate connects directly with your organisation, so it's your first opportunity to demonstrate your support for diversity within the workplace. Make sure the language you use is gender-neutral and doesn't exclude older candidates, as well as avoiding language that suggests any race or ethnic bias. It's also important to avoid using too much company jargon, as this could also be alienating to some.

If you find it difficult to review your job specifications objectively, ask someone from outside your organisation to take a look. And always include a section on every job description encouraging applications from all backgrounds.
3. Address any unconscious bias
Unconscious bias is a positive or negative mental attitude we hold towards a person or group at an unconscious level, often influenced by our own assumptions, experiences or background.
Although it's never ill-intentioned, this can affect our decision making in certain situations. So, as much as possible, anything that could affect our unconscious bias should be removed from the recruitment process, for example:

• Review CVs blind, by removing the name, gender and age
• Arrange for CVs to be assessed by a wide range of stakeholders across the company to gain a variety of perspectives
• If you feel it would be beneficial, conduct anti-bias training for staff so the recruitment process can be managed objectively
4. Talk to your recruitment agency
If you're using a recruitment agency, ask them about their diversity and inclusion policies. Make sure these are aligned with your company strategy and that they're reflected in the recruitment process.

Upholding genuine equality within the recruitment process requires certifiable knowledge, so ask them about any specific training they've undertaken. For example, at Langley, all our staff are trained and certified in addressing unconscious bias and we are officiated members of The Equality Register.
5. Have an inclusive interview process
Preparation is key if you want to ensure your interview process is fair and free from unconscious bias. Select a diverse interview panel so you get feedback from a range of perspectives. This will also help diverse candidates to feel comfortable.

Agree the questions you'll ask beforehand and consider using a scorecard criteria - where each candidate is asked the same question and scored on their ability to meet the job requirements. Also be sure to ask whether your candidates have any special requirements on the day, such as accessibility issues, and make sure these are addressed.
6. Be open to flexible working
Not everyone can commit to the same work patterns, so being open to flexible and hybrid working is a great way to attract some of the best candidates from different backgrounds.

For example, women with childcare commitments may struggle to get into the office every day, so being able to work from home a few days a week could make the job seem a lot more attractive them. Also be aware of religious festivals and other events that could require someone to take time off, and be clear on your inclusive approach to these situations.

Need some help?
As specialists in procurement and supply chain recruitment, we work closely with public and private sector clients to find them the very best candidates from a diverse range of backgrounds.

We consider excellent recruitment practices paired with equality and diversity monitoring to be one of the specialist areas we can help in – offering advice and guiding prospective clients.

If you'd like to find out how we can help you, contact us here is give us a call on +44(0)333 366 0839.